Christmas is almost here. And that means presents. If you're not geek-savvy, then buying for your tech enthusiast friends and family can be a stretch. So here are a few gift suggestions if you're looking for a techie present.
Convergence Universal docking station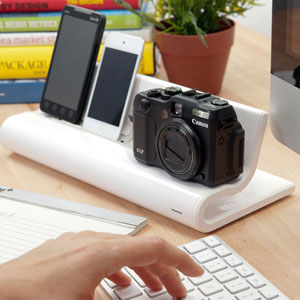 There's a major problem with the gadgets we're all acquiring. Their charging cables get everywhere, and I know, at least on my desk, they sprawl everywhere. Wouldn't it be nice to give a gift with a bit of order and allow someone to reclaim their desk this Christmas.
Not only will this charging dock hide away the cable of up to 4 devices at one time, but it also looks great whilst it's doing it. Some people may think it's a bit pricy for what it's doing, but for anyone who's fighting against wires on all fronts, then it might just help turn the tide.
If you're going to buy something techie, then there's no harm in buying something which would help you as well, right? The Pro Tech Toolkit is the most complete single set of, screwdrivers, tools, and technical gear, you'll ever come across.
This 70 piece set, is a brilliant gift for anyone who is concerned about the environment (fixing rather than throwing technology away), a partner who claims that they never have "the right tool", or someone who loves all the little details of their gadgets.
With a little bit of expertise and this toolkit, your geeky gift receiver will be able to fix practically anything around the house; from your iPhone, to laptops and other devices.
ION iCade Arcade Gaming Cabinet for iPad
If you grew up in the late 70's / early 80's then I don't have to explain why this is awesome.  To anyone else, it marries the combination of the iPad's massive library of games, with the controls which were a staple from gaming's early years.
This combination of nostalgia and precision controls, then mixed with the iPad allows many games to be played: either how they were originally intended or with a new physical set of controls, providing a gameplay experience which was impossible on a touchscreen.
For anyone who loves game and gadgets, iCade will earn you a million brownie points, this holiday season.
Many gadgetiers will admit that they use their mobile and tablet devices excessively throughout the day — and it's so annoying when the batteries of such devices dies before the end of the day. Especially if it's not possible to reach a plug.
That's where the iCarrier from New Trent comes in. With its two usb ports, and 12000mAh capacity, it's possible to charge an iPhone5 to full power six times. Meaning that whoever is lucky enough to receive this, will never be out of power in a pinch again.
Makey Makey
Makey Makey is effectively an Arduino without the fuss – a tool to quickly make things with electronics, without a risk of electrocution – it's so simple that even a four year old could use it, but so powerful that it's used to prototype.
With Makey Makey, it's possible to make musical instruments, keyboards and even games, all from using the board provided and some clips. Whether your tech-savvy friend wants something to play around with over Christmas or designs prototypes, any creative technology lovers will enjoy Makey Makey.
---
Merry Christmas and a Happy New Years
Love
KindredHQ